NKM Fire Protection Limited incorporates Medbex Electrical Contractors Limited.



This is a union of two long established and highly professional companies with a long history of working in close collaboration. With over 40 years' experience, Medbex services include:
Electrical installation in commercial and industrial properties
Lighting and power installation
Electrical lighting and power maintenance
Emergency light installation, testing and maintenance
Single phase and three phase installation and replacement of switchgear and distribution equipment
Installation of earthing arrangements to other services (including Water, Gas, Structural Steel and Oil).
Data and networking installation
Fibre optic cabling and termination
Installation of door holders and closers
Installation and maintenance of refuge systems
Distribution board upgrades
Networking CCTV
Commercial kitchen and mobile testing
Periodic electrical inspection and testing
Our customers include Local Councils, Private and State Schools, Care Homes, Nurseries, Sports Centres and many other establishments and buildings within the south east.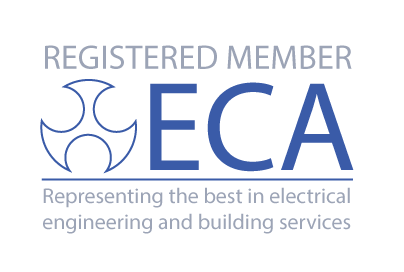 Medbex Electrical Contractors is a member of the Electrical Contractors Association and an ECA accredited company. The ECA provides us and our customers with the knowledge, assurance and protection that all operatives who are undertaking Electrical Installation and Inspection and Testing of commercial and industrial properties are working to the highest standard conforming to BS7671 IEE Wiring Regulations and (EAWR1989) Electricity at Work Regulations. All our operatives are fully trained and certified with the ECS Safety Scheme.
Inspection and Testing The primary purpose of inspection and testing is to determine whether a new electrical installation is safe to be put into service, or whether an existing installation is safe to remain in service until the next inspection is due. Inspection and Testing of electrical installation work is also required to ensure it:
only incorporates equipment which has been correctly selected for its intended purposes.
All electrical equipment will deteriorate with age, as well as with wear and tear from use. Every electrical installation therefore needs to be inspected and tested at appropriate intervals during its lifetime to establish that its condition is such that, subject to the completion of any necessary remedial work, the installation is safe to remain in service at least until the next inspection is due.
Correctly compiled Electrical Installation Certificates, Electrical Installation Condition Reports and Minor Electrical Installation Work Certificates provide persons responsible for safety of electrical installations (including contractors, owners and users) with an important record of the condition of those installations at the time they were inspected and tested. Such certificates and reports also provide an essential basis for subsequent inspection and testing without which a degree of costly exploratory work might be necessary on each occasion. In the event of injury or fire alleged to have been caused by an electrical installation, certificates and reports will provide documentary evidence to help demonstrate that in the opinion of competent persons, the installation has been installed and subsequently maintained to a satisfactory standard of safety.